Dr. Franziska Polanski
Marsiliuskolleg, Universität Heidelberg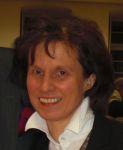 Interview of December 21, 2010 with Dr. Marion Bär
Dr. Polanski, you are project director of the Marsilliusproject "Images of ageing in German newspaper and magazine caricatures". And as an author of satirical texts and as a publisher, you have dealt with diverse portrayals of humour for many years. How did you come about doing research on age in caricatures?
In comical art- comedy, comic opera- century old figures of the so called "funny elderly" upheld until this day. Just think about the Senex amans, the old man in love in ancient comedy. Or Vecchi, Patalone and Dottore, figures of the Commedia dell´arte, who evolved into Molieres wonderful, extremely funny characters of the miser, the hypochondriac and household tyrant. All these people reappear in altered forms in today's comedies or caricatures. They are elements of the collective memory and are retrieved or put back as needed. At any rate, they still play a role today.
When you now think that on one hand, we have quite a differentiated discourse of aging in our society but on the other hand a "handling of aging" that is absolutely outdated. For example the forced retirement at plus minus 65 or the lack of job opportunities for the 50 plus or even the above 40 on the job market, you have to ask yourself what kind of image of aging lies behind such treatment of humans. What image of aging does this society have? What image of aging does it really have? Do we actually have a completely different image of old age in the back of our minds than in our consciousness? Could it be, that over centuries, traditional stereotypes of aging in comic art are still influencing our imagine of aging today? To research that, we examined 3000 caricatures in the project "Images of ageing in German newspaper and magazine caricatures".
You spoke about the "back of our minds". Do caricatures show what no one would officially say because it isn't opportune?
Among others yes. In pictorial humour, there is always a large portion of the subconsciousness involved. The same applies for laughing about them. When someone laughs about a caricature, emotions, fear, aggression that we are not aware of, could be an issue. Meanwhile there is also research in Neurobiology that emphasizes on emotional reactions of exhilaration through pictorial humour.
Your research project that you are currently completing at the Marsiliuskolleg of the Heidelberg University has the name "Age stereotypes in cultural memory". What does this involve?
In this project it is about age stereotypes from collective memory, that reflects specifically comic art in theatres and caricatures. Comic art was and still is totally underestimated in Germany and therefore ignored.
How can you scientifically evaluate caricatures?
Humour and wit are highly complex phenomena. The Marsiliuskolleg offers the ideal possibility for an interdisciplinary collaboration. I am very happy about that as it is absolutely necessary for such a project. For example, we are analysing caricatures with content analysis methods that belong to social science, but on the other hand involve art historical- hermeneutical methods or the knowledge of neurobiology.
Within the analysis we are mainly interested in caricatures that deal with everyday life and show the handling of age in the small details of daily routine. These caricatures quasi, express a story of emotions, attitudes and opinions on the topic "Age".
Can you give a first insight how caricaturists handle aging, age and the elderly?
Research is still ongoing, that is why I can only report about tendencies. For the moment it is noticeable that the elderly, measured on their part of the population, are highly underrepresented in caricatures, again especially women. Furthermore, the group of the above 80 is barely represented. And eventually it seems to confirm, that mainly very old negative stereotypes are transported in these caricatures.
How is age illustrated?
Obviously in most cases with the physical appearance: hair, wrinkles, posture etc. But it is also interesting to look at social roles or activities in which older people are portrayed. An age cliché that is firmly established is the picture of the "pensioner on the park bench".
On one hand you say that people at a high age are hardly represented but on the other hand, pictures that you were just describing are mostly characteristic for a high age of above 80. Is that not a contradiction?
No. Things have shifted. Phenomena of whom you would say, are characteristic for the high age group are attributed to the age group of the 60 to 80 year old. Typical situations of the active "younger" age is barely found in caricatures. Fit 80 year old parents with whom their 50 years old children can hardly keep pace for example, or the anti aging wave etc.
Between the two years 2007 and 1960 that you are researching, lies a great timeframe in which the image of age has immensely changed in the view of Gerontology. Does that also show in these caricatures?
No, not at the moment. Right now we are seeing how old deficient images of aging are procreating in papers and magazines.
So caricaturists are hard on age! Does that not show a hidden depreciation of aging in our society?
That almost sounds like a reproach. The caricaturists only use stereotypes that are already there. If the pictures they are working with, weren't generally intelligible, not collectively shared, no one would understand the caricaturists. So you can only determine that the ancient deficient image of aging and the corresponding depreciating attitudes obviously still move caricaturists and their audience. From psychology we know that people often laugh about what scares them. So negative age stereotypes do not necessarily have to be "something bad" if they are connected to humour, but can have a psychological stabilising function. They can help to handle certain phenomena of old age like frailty, forgetfulness, need for help. It is the innermost task of the satirist to capture such topics. You cannot accuse him of anything.
How do the elderly themselves react to the caricatures?
That is an important question we would like to research in a further step. I am assuming that many old people would laugh about it.
Humour as a coping strategy? Even though science emphasises on potentials and strong points of aging, doesn't it still mean for a lot of people that aging is "nothing for cowards"?
At least emotions that are connected to aging are changing, obviously not as fast as our consciousness is, concerning this topic.
3000 caricatures on aging- that arouses curiosity! Have you thought about making these caricatures available to the public?
Yes, I hope that one day we will be able to realize an exhibition on the topic " Age in caricature". For that we are looking for supporters. I am sure, they would be able to enhance further exciting discussions on the topic aging.
Mrs. Polanski, thank you very much for this interview.

Personal Data
The doctor and author Dr. Franziska Polanski is at home in science as well as art. She studied medicine, theatre studies, German studies and art history and worked as an assistant to the Director of Operas, Jean-Pierre Ponnelle - a very significant director for theatre history- for many years. Franziska Polanski is well known for her satiric texts in the "Süddeutsche Zeitung" and books in the fields of humour and satire. She has published in nationwide newspapers and magazines, is a free lance co-worker of many different radio- and TV stations and author of many books published by Ullstein. Among other things she wrote texts for cabarets like the Leibziger Pfeffermühle or the Münchener Lach- und Schießgesellschaft. She was editor of humour anthologies at Piper Publishing. Currently she is head of the research project on age stereotypes in comic art at the Marsiliuskolleg of the Heidelberg University.
.
Editor:
Email
Latest Revision: 2018-06-13